Process description
Our company's grate cooler is a kind of new energy-saving machinery for clinker, and the internationally advanced flow control technology has been employed in this machine. Based on the advanced thermal process, it has been improved greatly, and when compared with other grate coolers, its productivity is 20% higher and its heat consumption more than 10% lower.
Grate Cooler is a kind of quench cooler. Its principle is to quench clinker which is laid in levels on the grate plates with cold wind from air blower. Temperature of clinker will be rapidly dropped from 1400º C to be less than 100º C. Plenty of waste gases after cooling could not only be used as secondary air in the kiln, but also be heat source for drying coal in the coal mill.
Specifications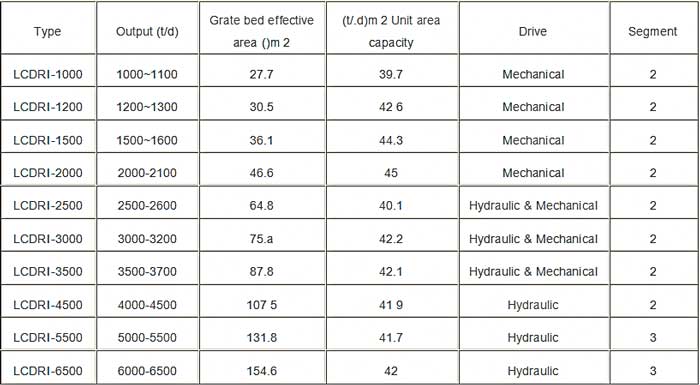 Features
Cooling machine for cement production line, grate cooler includes grate board, active beam, supporter, wheel, gear wheel, vertical and horizontal beam etc. The beneficial effects of the utility model are that the grate cooler removes "Red River" phenomenon effectively to ensure that the clinker cooled fully and reduce the discharging temperature further. New grid plate are not only with high-resistance and airpermeability, but also consider the materials and heat treatment fully to reduce the consumption of grate plate.
Grate cooler is a sudden cold cooler. Its principle is: To blow cool air with blower to cool down clinker from 1400 degrees to 100 degrees which laid on the grate board. The waste air after cooled can enter into the kiln as the secondary air.