Waste Incineration rotary kiln
Production description
Luoyang Building Material Architectural Design and Research Institute has accumulated the technology of large cement rotary kiln for many years,In 2010, our institute developed rotary kiln incineration equip ment for toxic and polluting waste.Through the continuous technical improvement of our company, a series of waste treatment equipment has been formed. Incineration rotary kiln mainly consists of kiln cylinder body, transmission device, support device, retaining wheel device, kiln head discharge sealing device, feeding Sealing device at kiln tail, two combustion chamber and other components.
Structure principle
Incineration of rotary kilns is an ideal choice for wastes containing a variety of hard to burn substances and wastes with greater moisture change. Rotary kiln equipment can adjust the residence time of waste in the kiln by changing the rotational speed, and make waste constantly turn over and stir in the high temperature air of the kiln, so that waste can be burned to the greatest extent, and produce the least ash, which is convenient for the back-end process treatment.
Rotary waste incinerator can deal with a wide range of wastes, especially solid waste, waste liquid, waste gas and waste slurry (such as organic sludge, inorganic sludge, medical waste liquid, petrochemical waste, metallurgical and chemical waste) incineration of hazardous wastes, which has the advantages of safety, reliability, and meeting environmental protection standards.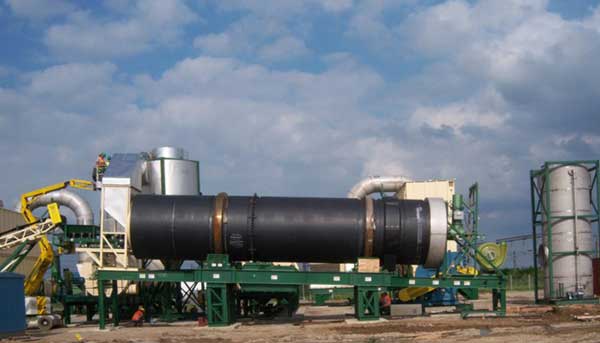 Technical advantages
The equipment can burn solid waste, liquid, gas and have strong adaptability to the wastes at the same time;
The incineration material flips forward, three heat transfer modes coexist in one furnace, and the heat utilization rate is high.
For different refractories, the lining has longer service life and lower maintenance cost.
The driving mechanism is simple and the driving mechanism is outside the kiln body, which makes simple for the operation and maintenance of the equipment . The frequency conversion speed regulating motor is used to drive the kiln body, which can flexibly adjust the speed of the kiln body and control the residence time of the material.
The long residence time in the rotary kiln and the high temperature of 1100 ℃, so that the hazardous waste is fully pyrolysis and the discharge is up to standard;
Graphite seal and fish scale seal are designed for different hazardous wastes. Good sealing measures and furnace negative pressure to ensure that harmful gases do not leak out;
Equipment operation rate is high, annual operation rate can generally reach more than 90%, easy operation and maintenance;
A coking prevention device is added to the rotary kiln to meet the processing requirements of different materials.
Specification parameter
Specification parameters of ordinary waste incinerator
| | | | |
| --- | --- | --- | --- |
| Specification | Production capacity | Rotation speed of kiln body | Main motor |
| m | t/d | R/min | kw |
| Ø2.5×13 | 50 | 0.06~3( rotational speed is adjustable) | 15-22 |
| Ø2.9×13 | 100 | 0.06~3( rotational speed is adjustable) | 22-37 |
| Ø3.4×17.5 | 150 | 0.06~3( rotational speed is adjustable) | 45-75 |
| Ø3.8×21 | 200 | 0.06~3( rotational speed is adjustable) | 55-90 |
Specification parameters of hazardous waste incineration kiln
| | | | |
| --- | --- | --- | --- |
| Specification | Production capacity | Rotation speed of kiln body | Main motor |
| m | t/d | R/min | kw |
| Ø2.2×9 | 15 | 0.06~3(rotational speed is adjustable) | 15 |
| Ø3.0×13 | 30 | 0.06~3( rotational speed is adjustable) | 22 |
| Ø3.3×12 | 50 | 0.06~3( rotational speed is adjustable) | 22 |
| Ø3.6×11 | 70 | 0.06~3( rotational speed is adjustable) | 37 |
| Ø3.8×16 | 100 | 0.06~3( rotational speed is adjustable) | 37 |
| Ø4.3×16 | 100-120 | 0.06~3( rotational speed is adjustable) | 45 |